Are image quality and buffering issues widely recognized by consumers in their streaming? It appears so. At least, that's what a survey that we conducted at the GetGeeked show in New York City would seem to say.
Giraffic works with TV and device manufacturers, and it isn't always able to speak directly with consumers and gauge their reactions to our technology. It's difficult when we accelerate streaming video and enhance the user experience. That is why it was great to attend the show, a tech and gadget-fest, and talk directly with consumers, tech enthusiasts and influencers about their experiences.
We showed side-by-side comparisons of videos with and without Giraffic AVA and on a beautiful 55" LG smart TV that equipped with 4K resolution. The demos were for video delivered via progressive download and adaptive bitrate streaming, both which aim to boost quality. Yet the improvements were pretty stark with Giraffic and it was great to see the impressed looks on consumer's faces. Below is the progressive download we showcased, highlighting the substantial reduction in buffering as a result of our technology.
The best part of the show was getting the direct feedback from people about their streaming media experiences and concerns. Almost 200 told us about favorite streaming media services, viewing habits and overall satisfaction with their services or Internet providers.
Most people surveyed subscribe to more than 2 premium services – Netlfix, YouTube and Amazon Prime (in that order) being the most popular.
But, when asked about their biggest streaming concerns, buffering and image quality were the most common complaints as illustrated by the graph below.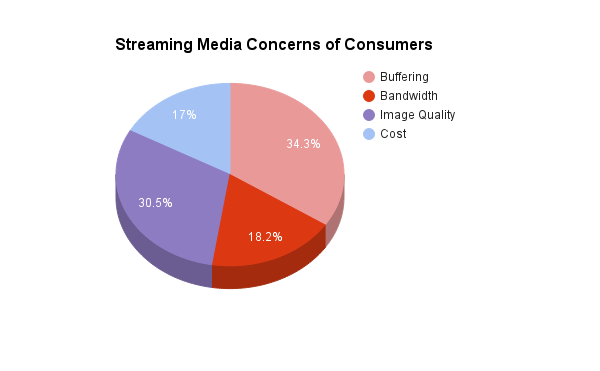 Could it be that consumers have low expectations when it comes to streaming video? Possibly. But we see the real issue is in where people experience the biggest barriers – that is in-home Internet. When networks slow down, consumers get a poor experience overall with the performance of their streaming service. That means, they need more products that can intelligently adapt to network conditions and deliver the content they want.
We're continuing to dive into the data and will be sharing more soon.