By integrating Adaptive Video Acceleration SDK into ExoPlayer-based applications, OTT service providers are benefiting from robust streaming platform with higher viewer engagement and reduced churn
Tel Aviv, Israel – [December 13, 2018] –  Giraffic, the inventor of market-leading Adaptive Video Acceleration (AVA™) technology, announced today the extension of its SDK to boost the performance of ExoPlayer-based video streaming applications. Tightly integrated with ExoPlayer, AVA SDK helps content providers to achieve 30-60% higher robustness and quality of service for Over-the-Top (OTT) service that meets consumers' expectations and growing demand for content without any server or network side integration.
Giraffic conducted A/B tests across its deployments on various applications that utilize ExoPlayer, resulting in improvement of rebuffering rates, streaming robustness and playback quality.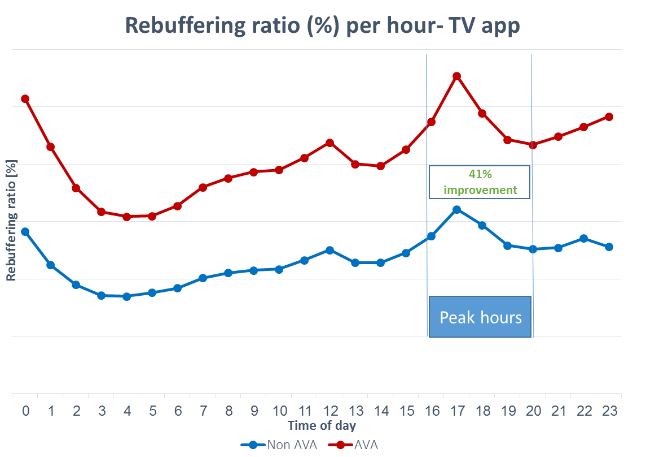 Demonstrating an increase of 60% in stream consistency, over 40% reduction in rebuffering ratio during prime-time and over 60% reduction in rebuffering events, Giraffic AVA is the only solution that improves viewing experience entirely from the client-side, complimentary to the existing video delivery infrastructure.
Industry data shows that an increase of 0.2% in the rebuffering ratio reduces the viewing duration by almost 8 minutes.  AVA mitigation of rebuffering ratio extends user engagement by 20% resulting in a proportionate increase in advertising revenues and reduced churn.
Moreover, the integration of AVA SDK extends ExoPlayer capabilities, providing further optimizations to mitigate network congestion during live prime-time events and to deliver seamless UHD 4K and HDR video, while providing better utilization of network.
"Having been deeply engaged with ExoPlayer based projects for over 3 years, we are witnessing its increasing adoption in the industry and despite its advantages, service providers are still facing challenges with viewing experience, in particular around complex ABR implementations, " says Yoel Zanger, CEO of Giraffic. "Our AVA technology has resolved 40% of streaming related issues, resulting in subscribers' higher engagement, reduced churn as well as reduced support cases" continues Zanger, "what eventually results in 5-10X return on investment in the AVA technology".
To schedule a demo or set up a meeting with Giraffic, please contact: inna@giraffic.com. For more information on AVA SDK and Giraffic technologies visit www.giraffic.com.
About Giraffic
Giraffic is the inventor of Adaptive Video Acceleration™ (AVA™)- the leading client-side video experience technology, complementing the existing video delivery ecosystem that enables streaming service providers and consumer electronics devices to deliver High Definition video, UHD 4K, HDR and VR, without re-buffering pauses or streaming resolution reduction. With over 100 million of devices in over 200 countries, Giraffic groundbreaking AVA technology was adopted by the world's leading manufacturers, including Samsung and LG.  AVA technology is now making its way into more streaming applications, mobile devices and VR.
###
Media Contact:
Inna Zagrebelny
Director of Product & Marketing, Giraffic
inna@giraffic.com