Earlier this week, Jiangsu Broadcasting Corporation (one of the top networks in China) visited Giraffic to discuss our ongoing collaboration with Nanli, one of the most innovative companies in the VOD market.  They offer advanced Android set-top box pico projectors that are a quality alternative to smart TVs.
I shared our excitement that Giraffic AVA is included in Nanli's new projector. The device connects over WiFi and broadcasts video content via OTT applications anywhere there is a projector screen or a white wall. We also discussed the importance of our work together, as the interest in watching broadcast television over the Internet is increasing at rapid rate globally. Working with Chinese OEMs such as Nanli is a great experience, and we appreciate the chance to address the needs of their market.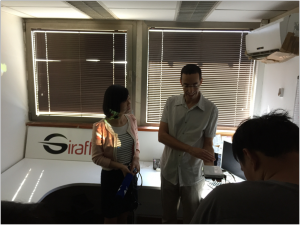 Previously, we worked with their development team to integrate our AVA technology in their set-top box, giving users much better performance for OTT apps and access to HD video streaming even over poor Internet connections.
Our ongoing collaboration with Nanli has also been the subject of importance for the Chief Scientist of Israel, Avi Hasson, who visited Nanli headquarters as an example of the Israel-Jiangsu cooperation project.