Recently, I had the chance to speak at the 2015 Israel-China Innovation Summit, which celebrates ongoing tech collaborations between Israel and China. It was a great opportunity for Giraffic to showcase how our adaptive video acceleration is revolutionizing the way Chinese manufacturers and consumers use streaming media.
The event was attended by approximately 20 Chinese delegations, mainly mobile and consumer electronics companies, a select few Israeli tech companies were invited to present on stage and network with the delegates for new business opportunities.
On stage discussing AVA at the Summit
Our invitation to speak comes from our successful ongoing work with major Chinese consumer electronics companies, like Nanli. In-fact, our collaboration with Nanli has been the subject of a number of R&D projects with China – with the Chief Scientist of Israel, Avi Hasson, visiting Nanli's headquarters last year to discuss their investment in our technology and how the two countries can work together in the future.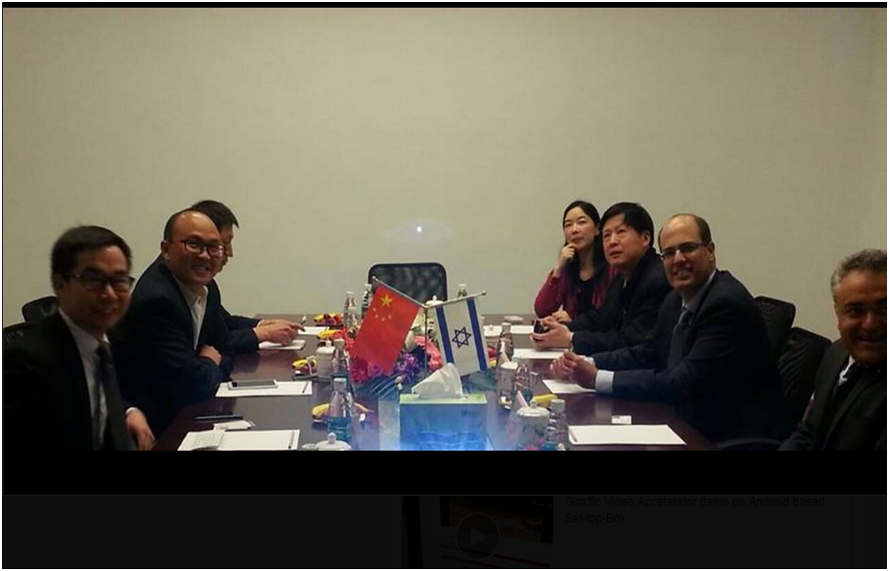 Israel Chief Scientist Avi Hasson (Right) meets with Nanli company representatives
China is an interesting place for streaming media too. As one of the most congested, and highly controlled, Internet environments, there's a real need to super-charge people's experiences. In-fact, most apartment buildings or neighborhood blocks sometimes share WiFi with one another, meaning that there could be dozens of devices connected at a given time. As we continue to work with Chinese brands like Nanli, Hisense, Wipao and others, our technology will be able to help consumers get the optimal video streaming experience with their OTT apps.
I look forward to growing our opportunities with Chinese companies, and for some exciting announcements to come forth in the coming months. It is always great to come to these events and see just how many Chinese companies visit are interested in Israeli tech and investment opportunities.