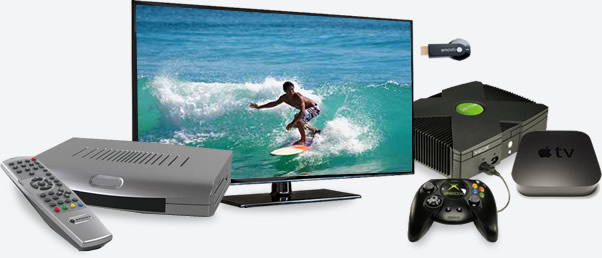 With Giraffic software integrated, SmartTVs, Media Streaming Devices, IP Set-top-boxes and other consumer electronic devices "control the pipe" to get more throughput out of the existing Internet connection. Software controlled from the client-side only, Giraffic TV AVA enables latency-free true high-resolution UHD 4K streaming and a Broadcast TV experience over the Internet.
Adaptive Video Acceleration and enhanced performance from the device
TV Adaptive Video Acceleration™ (TV AVA™) – a client-side embedded software based on AVA™ core technology providing improved streaming experience on Smart TVs, BluRay devices and streamers.
Devices using Giraffic TV AVA overcome Internet bandwidth limitations, by extending their existing capabilities from within the box or chipset out to the Internet network. The result is faster downloads and data streaming and additional control of web congestion. Viewers simply enjoy a higher quality, lower latency video experience, as well as faster downloads of large content files from the web.
Remain competitive with market leading multimedia acceleration performance
Expedite time to market with Giraffic's embedded client-side networking expertise and instantly deploy on existing and future device models.
Bypass development, monitoring and adaptation with our multi-protocol support solution (HTTP/S, HLS, etc.) that is already deployed in over 200 countries and thousands of ISPs, continuously compatible with new ISP policies, new WiFi or 3G/4G standards  and both local and global Internet network changes.
Giraffic side-by-side demo: Adaptive up to 4K Resolution
Giraffic side-by-side demo: Progressive 4K Resolution
To get more familiar with the Giraffic AVA™ improvement please run the Giraffic "Live Benchmark"
Read more about AVA Technology