Source: Twitter
Last week I spoke at Parks Associates' CONNECTIONS Conference, in the session "Streaming as Standard: The New User Experience." Our panel, moderated by Parks Associates Director, Barbara Kraus, discussed the technology that can improve the video streaming experience. It started off with introductions that led into a discussion with influencers such as Rick Herman, Chief Strategy Officer of MobiTV, Tom Lattie, VP of Market Management & Development for Video Products at Harmonic , and Ali Vassigh, Director of User Experience at Roku.
The session was lively, informative and even hit some controversial areas. Barbara Kraus recently wrote, "…the lines between device makers, network operators and content providers are blurring" and that "[t]he user experience is becoming more critical – navigation and search, picture quality, broadband performance" are becoming the most important components of user interface (UI).
I shared my position about device manufacturers having an important role to play in improving delivery of the content to their devices. In the past it was entirely up to content providers and network operators to assure smooth broadband delivery. Now technologies are available on the device to improve such performances: by supporting and enhancing performances of Adaptive Streaming, such as MPEG-DASH, by employing HTTP throughput optimization technologies such as AVA, and by providing a better native video player on their platforms.
Roku's Ali Vassigh and I had a harmless debate on the consumer's rising need and addiction to cell phones, and which device will be the favored tool to search, discover and control your TV streaming experience. To prove my point, I asked the audience to see how many of them were currently messing around with their phones, and sure enough, many embarrassed heads looked up from the audience. Ali shared that most Roku users still use the Roku remote control, with the Roku mobile app hardly being used. My claim was that while the remote is certainly the most intuitive and common user interface for TVs, it hasn't changed in decades. For more complex OTT content – search, discovery, personalization – more comprehensive UI's such as gesture control and voice have failed irreparably. Additionally, since users are already addicted to their smartphones, they should continue to add on anything related to controlling their TV streaming experience to mobile devices.
This discussion transitioned perfectly into the poll that was taken during the panel, with a surprising result from one question asking:
In three years, what will be the most prevalent method of controlling streaming media?
Voice
Gesture
Remote Control
Smartphone
Other
After everyone texted their answers, the winners came out more or less equally to be voice, smartphone and remote control, with each taking almost a third of the votes.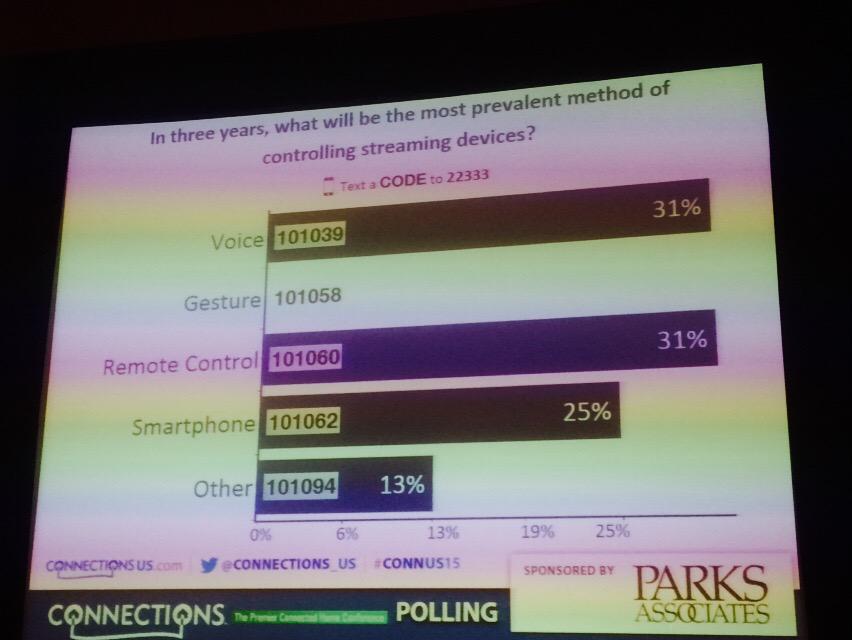 Source: Twitter
Let us know what your answer was and any other thoughts you may have on streaming technology by tweeting us @GirafficAVA, or by leaving a comment below.
Source: http://www.parksassociates.com/events/connections-us